On September 23rd, New Zealand's future is up for grabs as the country rushes to the polls to decide who will be in charge. Every election is important, but with so many key issues being raised over the course of this year's campaigns, this election seems to be much more enticing.
Key issues such as housing, health care, transport, child poverty and water have all been raised dividing opinions and causing some hotly contested debates. 🔥

Property investors and tenants particularly have been forced to show a keen interest in this year's election. With so much discussion about the position of New Zealand's housing market, the conditions for renters and landlords and the price of housing in general, property investors across the country wait with baited breath to know what this election will mean for them...
Tenants, too, must show a keen interest as tenancy agreements, housing conditions and rights for tenants and landlords are often discussed. 🏡
But with so many other policies and so much to think about, what do the parties policies really mean for you?
How will the policies affect your investment portfolio, or your ability to secure a good quality, warm, safe and dry home?
We have taken the time so you don't have to, trawling through countless pages of documentation to find out the exact impact for you as a property investor or as a tenant.
We've highlighted the major arguments and proposals put forward by a number of parties to allow you to make your own mind up. 🤔
The parties that we have reviewed are; National, Labour, Green Party, The Opportunities Party, New Zealand First and the Maori Party.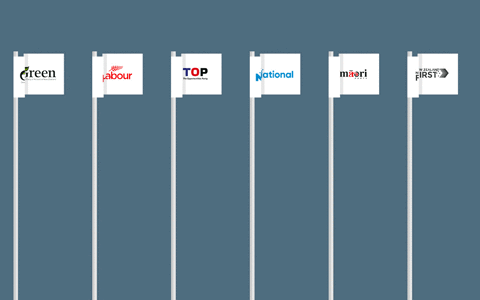 We have taken great care in this article and have attempted to provide an unbiased, neutral representation of the electoral policies each party has put forward in their campaigns.
The views reflected in this article are not the views of Tommy's Rentals nor their staff but simply a breakdown of policy to discover its true impact to allow you as a consumer to fully understand the impact of each policy on the market.
We have sought out expert advice from Real IQ, a leading force in property management consultancy and other notable sources to provide an easy to digest resource for you.
We have analysed global property markets and compared them with New Zealand.
This has given us an in depth, complete understanding of all suggested policies and the impact of their application to their end user; You.
The information for this article has come from recognised sources and you will be able to find a breakdown of these sources from our resource list at the conclusion of this article.
Who are Real IQ?

Real IQ are one of the leading forces in property management consultancy across New Zealand...
Owned and operated by David Faulkner, a well respected figure in property management, they offer expert advice to companies around the country.
David is passionate about the regulation of property management and thinks that this is something which is long overdue. His comments on this post are much appreciated and are offered to give you a better understanding of exactly what these can mean for you as a property investor.
One of the most discussed policies this year amongst property investors has been the suggested abolition of the letting fee.
Labour and the Greens have both signalled interest in abolishing the letting fee with the intention of making it easier for tenants to move into property. The true impact of this policy however spreads much wider.
In 2012, Scotland became one of the first countries to disband the letting fee. 💸
In the year following this, the Scottish government's own figures said that rents rose by 4% in the first 12 months after they introduced a ban, while in England average rents decreased by 0.7% in the same period.

http://www.mortgagesolutions.co.uk/your-community/2016/11/30/how-the-removal-of-letting-agent-fees-will-shape-the-rental-sector-marketwatch/


The same could happen here, with property management companies and letting agencies attempting to recover their lost income by passing this cost on to the landlord.
This may then be passed on directly to the tenant in higher rental prices as have been seen in other countries.
For the tenant then, while it may mean moving into the property is much easier, the true result may mean that they are paying a higher price throughout the course of the year, and results in no saving at all.
For investors, the abolition of the letting fee means something different. As previously mentioned, letting agencies and management companies would be in a position to increase their costs in mind of recovering the lost income from the letting fees.
Yet landlords across the country are already subject to increasing costs... 💰
With National's government imposing more and more legislation on landlords such as smoke alarms and insulation to improve the condition of rental property and the standard of the property management and investment industry, yet another cost could result in a smaller return and could discourage people from investing in property.
What Real IQ says;
It is unsurprising that this has been announced as many parties will look to win the vote of tenants. We can understand why this has been done as it is the landlord who benefits from having their property rented and it could be argued that they should pay it.
However, landlords will want to offset the cost of this and that may force rents up – the opposite intention of the policy. Property management companies are unlikely to absorb the cost of this as it makes up between 10-15% of their total revenue.
Absorbing this cost would cause difficulty for many companies.
For the most part, this year's election has served up the typical back and forth between the political parties involved.
We've seen heated debates and strong opinions in the media.
It seems, however, that one thing most people and parties can agree on is that New Zealand needs more houses. 🏘️
With an ever-growing population and with immigration figures indicated to be on the rise, New Zealand must have more housing for these people.
National, Labour, the Greens, The Opportunities Party, The Maori Party and New Zealand first have all pledged to build more houses.
The Green party pledge to build 10,000 homes, available for sale to low income earners through a rent to own scheme. For tenants, this would offer a clear path to homeownership for those who struggle to save a deposit for a home. However, with only 10,000 homes being built for this scheme, it's yet to be seen if this will make a significant enough impact on the rental market. Investors would need not worry about losing tenants, as the suggested population growth will require this housing as an essential supplement and not an alternative option.
The Maori party have ambitions to build 90,000 houses by 2022 for social housing and private sale.
Labour plan to build 100,000 houses to sell to first home buyers.
New Zealand First plan to build 140,000 to sell to first home buyers. This would have huge ramifications to the property investment market. With between 100-140 thousand prospective tenants owning their own home, we may be presented with a situation where demand underwhelms supply as opposed to the other way around.
As investors, this could result in long vacancies and a drastic cut in the prices that are able to be charged. This may only be true however, if immigration numbers do not meet their anticipated levels.
National wants to build 20,000 homes for private sale in Auckland.
The Opportunities Party would tax all income from productive assets and redistribute this money to lower income earners through tax cuts as opposed to building more homes. The policy from TOP could result in tenants being able to save for homes faster, but may also be used as a supplement to their rent.
Building more property in Wellington really favours both tenants and landlords. Tenants will have more options available to them. People moving to the country too will be able to find good quality housing.
For property investors, more houses being built signals more opportunity to add to their existing portfolio.
The number of houses that are built each year may not meet the supply immediately which will not result in high vacancy or low rent straight away. This could happen further down the line, yet with many years to prepare for this and the forecasted migration figures, it should not be a major concern.
What Real IQ says;
If there are enough of the right type of houses built, you are able to control rents and property prices. Christchurch now has an oversupply of property will falling rents. An increase in social housing is also necessary to house higher risk tenants. Private landlords should not be forced to house high risk tenants.
In what has been an ever-evolving issue over recent years, the rights of tenants and landlords are changing rapidly.
This election offers yet more discussion in what is already becoming an increasingly regulated industry.
National look set to continue with their path to increase regulation. Having already introduced regulations around smoke alarms and insulation, they now seek to create a new criminal offence for people who contaminate rental properties with methamphetamine.
Methamphetamine has been a huge issue in the rental industry with the lack of understanding and clear guidelines causing confusion for many private landlords.
The cost of decontamination of rental properties can be massive and for many it has been a confusing road to travel.
National's policy would not only make this a criminal offence for tenants, but also allow for much easier testing for landlords. This could result in reduced damage to the property, as landlords will be able to identify the issue and contamination much earlier than they can currently.
For the majority of tenants, this policy will have little to no impact. Most tenants are respectful of the property that they live in and take care of the home.
However, for those who see rental properties as an appropriate place to use or manufacture a harmful drug, it will offer a clear warning. 💀
Source: stuff.co.nz
Alongside their policies surrounding methamphetamine in rental property, National plan to make tenants liable for careless damage to rental property. A topic widely debated since the Osaki v Holler tribunal case in 2016 is who is responsible for the cost of careless damage to rental property.
Osaki v Holler was a case in which a guest of the tenant accidently set fire to part of the kitchen and caused considerable damage.
In this case, it was ruled that the landlord's insurance would cover the cost of the repair and the tenant would not be held liable.
This ruling was made by the highest court in New Zealand and consequently set a precedent for all future cases. Since then, Osaki v Holler has been referenced 1100 times in the tenancy tribunal.
For landlords, this means increased costs as insurance premiums rise and the cost of the excess payment on the insurance policy.
For tenants, it meant that unless it could be proved beyond all reasonable doubt that the damage was malicious or intentional, no tenant could be held liable.
If this was to change, landlords could see a reduction of costs, while tenants could see more liability being placed upon them.
It would be up to the tenant to prove that the damage was not intentional and not the other way around.
Source: NZ Herald
Labour too have a number of policies surrounding changing legislation in tenancies. Labour would increase the controls on rental increases from once every 6 months to once a year.
As a tenant, this would tie in nicely with the end of tenancy agreements (assuming your tenancy is fixed for one year) and would offer great security. For landlords, this restriction on rental increases takes away from the flexibility currently presented by the current system but would not overall directly affect your portfolio.
Many landlords choose only to increase once per year anyway as often the middle of the tenancy reflects a slow point in the market and so any rent increase could be considered as unwarranted.
What is interesting is Labour's suggested formula for rental increases.
With the specifics of this yet to be announced, it would give both tenants and landlords a clear understanding of exactly what the rent would go up by and when this might be.
The details of this will be extremely important as it attempts to put regulation on a market which for a number of years has been moving freely.
Labour seek to offer tenants more security by increase all notice periods from landlords to tenants to 90 days as well as abolishing 'no cause' terminations. This will be a popular move with tenants as even on periodic tenancies it will guarantee them a little more security.
Source: 1 News
Perhaps one of the more popular policies amongst tenants will be Labour's intention to allow tenants to feel more at home by making small cosmetic changes to the property.
This would be on the condition that landlords have given consent for this in the tenancy agreement, they pay a larger bond and the property is returned to its original condition at the termination of tenancy.
This benefit is for both landlords and tenants... 😍
While tenants will be able to enjoy the property that they live in and make it a home, landlords will be given the opportunity to secure a longer-term tenant.
If a tenant is willing to change the property at their own expense cosmetically, it would suggest that they are interested in staying in the property for a number of years.
This can guarantee an income stream for the owner and as a property investor no vacancies is a strong position to find yourself in.
Property management of the properties will be imperative but on the surface at least this seems popular with tenants.
The Opportunities Party seek to develop a tenancy reform, positioned to develop a market for long term tenancies.
Drawing comparisons to rental markets across the world such as Germany where long term tenancies are extremely common.
Most tenancies are unlimited, which means that once the tenancy has begun, the landlord can only end it by evicting the tenant through the courts or giving at least three months' notice.
This notice can be contested by the tenant, and will usually only be accepted where the landlord has a good reason for the notice being given.
Likewise, rent increases should be justified, unless they follow a scheme laid down in the tenancy agreement. 📄
For property investors in New Zealand, you are offered some excellent security as the unlimited lease terms open themselves up to minimise vacancy.
For a tenant, the same security is extended. Yet as a homeowner, you are given less flexibility when it comes to asking a tenant to move on. Tenants have much more power in Germany and this has resulted in just under half of the population renting.
Source: Interest.co.nz
The Maori Party offer a simple solution.
They seek to strengthen the tenants' rights, and streamline the bond refund system to allow bonds to be released quicker.
This would stop contentious debates in tribunal over whether the landlord could retain some of the bond and would put more emphasis on the tenant to ensure they have correctly returned the property to the owner before seeking a bond refund.
Landlords would have a clearer idea of exactly what they can claim parts of the bond for and what they can't.
Perhaps one of the most polarising policies lies in their consideration of capping rents for private rental property. This could drastically change the way that the rental market operates, yet exactly how remains to be seen.
What Real IQ says;
There are very few landlords who actually increase the rent every 6 months. We applaud the 90 day notice policy as this will work much better for tenants and can give them more security. Putting a freeze on rents may not work and a formula for rental increases needs to be well thought out.
Rental property varies in standard across the country. Some are outstanding, some are great but as with everything, there are always a few that let the side down. Frequently discussed, landlords throughout New Zealand may find that they are subject to regulation in the condition and standard of property that they need to provide.
With what looks to be the inevitable introduction of the healthy homes bill – a bill proposed by Labour that requires landlords to offer adequate methods of heating so that tenants can maintain the temperature of the house to roughly 18 degrees, insulation, the ability to maintain temperatures indoors, provide ventilation, draught stopping and proper drainage, it signals the beginning of more regulations to come.
The bill, which has passed its second reading and looks set to made into law, will result in an improvement of rental property across the board. Tenants will be presented with warm, safe and dry housing and landlords will have products in place that will protect their investment in the long run.
This bill has been widely supported by many parties and has led to calls for a national warrant of fitness to be required by all rental properties.

Source: Stuff
Supported openly by Labour, The Green party, The Opportunities Party and The Maori Party, the rental warrant of fitness will drastically lift the standard of rental property across the country. It remains to be seen exactly how this will be executed, but what can be certain is that landlords will be required to tick every box on the list in order to pass.
This could result in huge costs for landlords who may choose to invest money elsewhere.
What Real IQ says;
The national warrant of fitness is well meaning and Real IQ commends Justin Lester for introducing this to Wellington. However, with the implementation of the Healthy Homes Guarantee Bill, I am not convinced it is entirely necessary and may just add another cost to the landlord. I believe the long term goal should be to have energy efficient housing and have this graded similarly to the system with cars and appliances. The overall quality of rental property is not good enough when you compare New Zealand with other OECD countries.
As the election has moved on and the 'housing crisis' has been discussed in more depth, a major point of interest has been the tax benefits that are currently accessible for property investors.
Labour intends to bring in a capital gains tax.This tax will be on the profit made when the property is sold. It is yet to be fully explained as to how exactly this tax will work and as such it is difficult to determine its true impact on you as an investor or tenant.
Property investors who buy and sell property inside the first two years of ownership for profit are already taxed as they must declare the profit they make and pay income tax on this. Yet it is hoped that this policy will make a 'level playing field' for families and first home buyers looking to get 'on the ladder'.
Once again, this could impact on the number of tenants looking for property, but you could suggest that this will not take full effect for a number of years.
What will have a bigger impact on tenants is the "removal of the tax loophole" currently available to investors according to the labour party.
Labour say "losses from rental property investments will be ring-fenced. Speculators will no longer be able to use tax losses on their rental properties to offset their tax on other income, a practice called negative gearing." If successful in bringing this policy into government, it would not greatly affect a number of landlords.
Landlords and property investors with one property only, which is the majority of landlords in New Zealand, will not see a huge adjustment in their portfolio. The real impact of this will be felt amongst some of the bigger portfolios.
For tenants, this may be reflected in a slight price rise of rent as landlords look to move their properties to be positively geared as the benefits are removed.
Source: NZ Herald
For many of the parties, removing benefits for property investors has been a key policy for them.
The Opportunities Party look to tax all income on rental property and productive assets while the Maori Party would consider capping rents on private rentals. Capping rents would limit the amount of income someone was able to earn from owning property as an investment.
For tenants, it would offer security and the peace of mind knowing that rents would not exceed certain levels.
On the other side of the coin however is New Zealand First. They pledge to create tax incentives for landlords in order to entice landlords to upgrade rental property.
Landlords would have more available cash to improve the value of their asset and could provide a high-quality product for tenants. Tenants would also be directly impacted by this as the homes that they live in would be of a higher quality.
Warmer, safer and drier homes will be extremely popular with tenants and mean that landlords will be able to improve the value of their asset over time.
What Real IQ says;
I am not an accountant but even I would be amazed if Labour didn't introduce a Capital Gain Tax. New Zealand is one of only a handful of countries not to have a Capital Gains Tax. What it will look like remains to be seen though I believe it could potentially be around 15% of the profit from selling the asset, minus expenses. The concern you would have is that people would simply not sell as they would be taxed. Australia has had a CGT since 1985 and it hasn't slowed down prices in cities such as Sydney and Melbourne.
An interesting concept that has been introduced in Vancouver is a tax on landlords with vacant properties. This is something that could be looked at as Canada has had similar issues to cities such as Auckland. This tax has been introduced to ensure that properties are not sitting ideally vacant and more properties are put on the market to rent. This tax is 1% of the properties perceived value.
There is no secret that New Zealand is one of the world's gems. 💎
The projected number of people coming to New Zealand alongside more and more Kiwi's choosing to stay in New Zealand for longer is a sign that New Zealand is a great place to be.
Overseas investors are reading the signs, investing in property in New Zealand frequently. This has been a key touching point for some parties.
Labour and New Zealand First would both restrict offshore investors, with Labour restricting residential property ownership by non-residents and New Zealand first limiting land ownership by non-residents.
For property investors who are residents but living overseas, there will be no restriction.
By restricting ownership from offshore investors, tenants may have more chance to get into home ownership as the competition from offshore buyers would be removed. Property investors who are residents of New Zealand too would have an increased opportunity to expand their portfolio.
Yet currently it is estimated according to an article by the New Zealand Herald, that only 3% of Kiwi property is owned by overseas investors who hold no citizenship or visa in the country. If accurate, it could be suggested that banning overseas investors would not make a huge impact, but would allow for more of New Zealand's housing stock to be available for New Zealanders and residents.
What Real IQ says;
This is something that hasn't had enough light shed on to make an informed decision. Currently there is a lack of evidence to suggest that overseas investment is a problem for New Zealand.
What does it mean for Wellington?
Wellington's rental market has been an extremely hot topic of discussion for many over the course of the last year.
The rental price in the capital city has grown hot on the tail of Auckland and has shown no sign of slowing down. 🚀
The policies in this year's election, while yet to be completely clear on their true impact will no doubt put hurdles in front of landlords. These hurdles may be reflected directly on the bottom line of the investor, who will then look to increase rents to recover their costs.
Tenants may find themselves paying more to live in property as landlords incur larger costs to bring rental property up to a suitable standard. Tenants will enjoy higher quality of property and their rights will be strengthened, with the potential for fewer rental increases, more flexibility to change cosmetic aspects of the property and greater security for long term leases.
Landlords too will benefit from this, as their properties will be maintained well over a long term and vacancy periods will be reduced resulting in higher yields.
Wellington will always remain a popular place to invest. With parliament in Wellington and with the city being so popular with many Kiwi's, there can be no doubt that it will remain as a sought after city to live in. With such popularity, it would be unforeseen if tenants were to disappear from the capital city.
As a direct result of this tenant demand, it would be plausible that the rental market continues to grow.
However, there will become a point where the asking price outweighs what people are prepared to pay.
Landlords will have to find a balance between charging the right market price for their property and pushing tenants away. 🏠🤑
Property investors can be safe in the knowledge that they will have strong demand from good quality tenants and strong yields to go along with that.
Conclusion - It all comes down to you!
Needless to say, this election has been one of the most captivating in recent times. Policies have been ridiculed, applauded and debated.
The housing situation in this country will inevitably change, as it always does, and property investors, management companies, landlords and tenants will have to adapt and adjust their strategies in order to make sure they are achieving the best results for them.
Wellington's rental market will adjust slightly to reflect its government, but on the whole will remain strong and with good levels of tenant interest. Tenants will have warm, dry and safe housing.
What is for sure is that no matter what, the rental industry will remain a hot topic of conversation and changes will be afoot.
Needless to say, property investors and tenants will be hitting the voting booths come September 23rd to make sure their voices are heard in the future of New Zealand.
We will be following up the election post with a similar post to allow landlords, property investors and tenants to keep in the know as we look further in depth at the successful party's policies and how they will affect the rental market in New Zealand.
To be kept up to date with this, subscribe to blog.tommysrentals.co.nz or if you want to know more, feel free to call one of our team today!
References and sources
http://www.mortgagesolutions.co.uk/your-community/2016/11/30/how-the-removal-of-letting-agent-fees-will-shape-the-rental-sector-marketwatch/
http://www.nzherald.co.nz/business/news/article.cfm?c_id=3&objectid=11636711
http://www.labour.org.nz/levelling_the_playing_field_for_first_home_buyers
http://www.maoriparty.org/housing_policy_2017
http://www.legislation.govt.nz/bill/member/2015/0077/latest/DLM6627702.html?search=ts_act%40bill%40regulation%40deemedreg_healthy+homes+guarantee+bill_resel_25_a&p=1
https://www.parliament.nz/en/pb/bills-and-laws/bills-proposed-laws/document/00DBHOH_BILL66216_1/healthy-homes-guarantee-bill-no-2
http://www.stuff.co.nz/national/politics/opinion/92907277/election-2017-clash-between-home-owners-and-generation-rent-looms
https://policy.thespinoff.co.nz/topic/Housing#Housing%20Affordability